Sort your data and comms with
HubSpot Free CRM
The Covid-19 lockdown is taking a toll on most businesses and making doing business hard, if not impossible, for many. Closing sales and getting people to spend money is harder than ever, but this too will pass and things will improve in the next few months.
So what can you do now, without spending vast sums of money, to help keep your business moving forward, adapt to the current trading conditions or at the very least get your business ready to hit the ground running when normality resumes?
This is the time to be communicating with existing clients and prospects, keeping them updated on your new working arrangements, your plans for this period and informing them how you can continue to help them, now or in the future.
If you don't already use a Customer Relationship Management (CRM) system incorporating a joined up database and email function, we recommend HubSpot Free CRM and Email.
HubSpot Free CRM and Email
HubSpot is a customisable CRM, sales and marketing automation package that helps you organise, nurture and track prospects and customers. The fuller version offers comprehensive marketing automation at a cost, but the sales CRM database and the email marketing functionality is completely free – forever!
On the free licence, the number of contacts you can have in your database is unlimited, as is the number of database users, though emails are limited to 2,000 per month.
We use it for a lot of our business development clients to:
manage, track and segment our data lists
record our telemarketing and business development activity
set tasks and alarms for call backs and next actions
create and manage a pipeline of live deals and opportunities
manage targeted email campaigns and regular enewsletter broadcasts
Report back on sales and marketing activity and outcomes using automated dashboards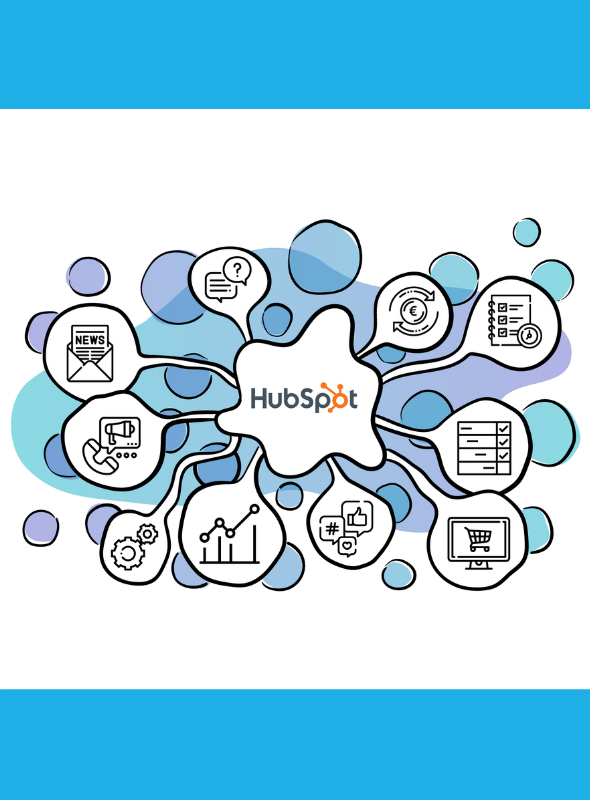 HubSpot Free CRM and Email
For added insight and data capture, HubSpot integrates with your website through the use of tracking code and embedded forms, or through a dedicated plugin. Once installed you can see if anyone in your contact database has visited your website and what content they looked at, highlighting warm leads to follow up by phone and giving an insight into their interests and needs.
You can also manage social advertising and incorporate HubSpot lead capture forms on your website so subscribers go straight into the database effortlessly.
Pop up data capture, live chat and automated chat bots are also features of HubSpot Free CRM, offering many ways to grow your data list and ensure that potential clients get the support they need when they visit your website.
The smartphone app with a business card scanner
There is an accompanying smartphone app, so you can take all your contacts with you wherever you go and there's even a handy business card scanner included which is great for data capture on the go, especially at events and exhibitions.
It's user friendly and what is also amazing is that the free CRM package also gives you access to the HubSpot Academy, where there is an absolute treasure trove of free training, certifications and learning on content marketing and strategy, inbound sales and marketing, social media and digital marketing amongst many other things.     
So as you can see this is something you can do for free, the only cost is your time – which of course is also very valuable!
If you would like to up your game with your data and digital marketing and would like to generate new leads and opportunities for your business, but don't have the time to master and use this free tool alone, get in touch to find out how brilliantblu's cost-effective business development services could deliver new leads and grow your business without breaking the bank.  
Join hundreds of other business owners by keeping up to date with the latest industry news each month. We never share your data.